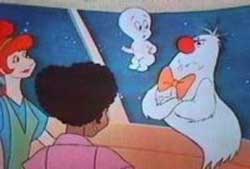 Titolo originale: Casper, the friendly ghost - The New Casper Cartoon Show - Casper and the Angels - The Spooktacular New Adventures of Casper

Casa: Famous Studios - Paramount/Worldvision Enterprises - Hanna & Barbera - Universal Cartoon Studios

Anno: 1950 - 1963 - 1979 - 1996

Episodi: 52 - 26 - 26 - 143

Canali: reti locali / Rai 2 [SOLO: The New Casper Cartoon Show] / Italia 1 / Toon Disney [SOLO: The Spooktacular New Adventures of Casper]

Genere: Commedia
Sottogenere: Creature fantastiche
Sezione: Fantasmi
Trama
Il personaggio di Casper, comparso per la prima volta in alcuni cortometraggi del 1945, è ispirato al libro scritto negli anni '40 dall'animatore Joseph Oriolo in collaborazione con Sy Reit, dal titolo Casper: the friendly ghost.
Già a quell'epoca, Casper si presenta come lo spettro gentile ed altruista di un bambino in cerca di amici con cui giocare e che vorrebbe aiutare il prossimo, ma il fatto che sia un fantasma compromette i suoi buoni propositi, a causa della paura che incute nei vivi che incontra durante il suo cammino.
Il personaggio di Casper è molto popolare negli USA, soprattutto grazie alle numerose serie a fumetti a lui dedicate - inedite in Italia - e ad una serie televisiva degli anni '60 che lo vede protagonista assieme ad una streghetta buona di nome Wendy: The New Casper Cartoon Show del 1963, prodotta da Paramount e Worldvision Enterprises, che è stata trasmessa anche in Italia su Rai 2 con il titolo "Capperino", mentre inizialmente sulle reti locali, per un breve periodo, venne rinominato "Gasperino".
Nei primi anni '80, fa la sua comparsa in Casper anche the Angels, in versione fantascientifica: nell'anno 2179, egli entra a far parte di una squadra di polizia spaziale assieme all'afroamericana Maxie, alla rossa Minnie e ad un altro fantasma di nome Harry, il quale, nonostante l'aria buffa, adora spaventare la gente.
Negli anni '90, il fantasmino ha avuto un ritorno di popolarità grazie ai film dal vivo Casper (1995), Casper 2: un fantasmagorico inizio (1997) e Casper e Wendy: una magica amicizia (1998), oltre ad una nuova serie animata del 1996 a lui dedicata, che è andata in onda su Italia 1 (Dabadabady Casper - Le fantasmagoriche nuove avventure di Casper).

Titoli episodi
Casper, the friendly ghost)
1.Casper's Spree Under The Sea
2.Once Upon A Rhyme
3.Boo Hoo Baby
4.To Boo Or Not To Boo
5.Boo Scout
6.Casper Comes To Clown
7.Casper Takes A Bow-Wow
8.The Deep Boo Sea
9.Ghost Of The Town
10.Spunky Skunky
11.Cage Fright
12.Pig-A-Boo
13.True Boo
14.Fright Day The 13th
15.Spook No Evil
16.North Pal
17.By The Old Mill Scream
18.Little Boo Peep
19.Do Or Diet
20.Boos And Saddles
21.Boo Moon
22.Zero The Hero
23.Casper Genie
24.Puss 'n' Boos
25.Boos And Arrows
26.Boo Ribbon Winner
27.Hide And Shriek
28.Keep Your Grin Up
29.Spooking With A Brogue
30.Bull Fright
31.Red White And Boo
32.Boo Kind To Animals
33.Ground Hog Play
34.Dutch Treat
35.Penguin For Your Thoughts
36.Line Of Screammage
37.Fright From Wrong
38.Spooking About Africa
39.Hooky Spooky
40.Peekaboo
41.Ghost Of Honor
42.Ice Scream
43.Boo Bop
44.Heir Restorer
45.Spook And Span
46.Ghost Writers
47.Which Is Witch
48.Good Scream Fun
49.Doing What's Fright
50.Down To Mirth
51.Not Ghoulty
52.Casper's Birthday Party
The New Casper Cartoon Show)
1.Leggende del nord
2.Mike il trasformista
3.Un gigante tutto solo
4.Una visita da Marte
5.Problemi d'insonnia
6.Un miliardario annoiato
7.Le sorprese di Suburbia
8.Onda fredda
9.L'età della crescita
10.I re di Giocattolandia
11.Il fantasma perduto
12.L'isola di mamma oca
13.Un problema per un professore
14.Il baby fantasma
15.Super fantasma
16.L'amico robot
17.Il cavallo incantato
18.Il principe incantato
19.Un cuore d'oro
20.Il tocco magico
21.Il cavaliere timido
22.Il fantasma errante
23.L'ora delle streghe
24.Doppio guaio
25.L'ultima penna
26.Il desiderio di Wendy
Casper and the angels)
1.Casper's Golden Chance / Space Circus
2.Casper Ghosts West / Casper's Camp Out
3.Strike Four / The Space Pirate
4.Ship-Wrecked / The Cat Burglar
5.Something Fishy / The Smiling Lisa
6.A Pocket Full O'Schemes / A Tale of Two Trashmen
7.Fatula / T.V. or Not T.V.
8.Gone to the Dogs / Private Eyeball to Eyeball
9.Champ for A Day / The Ghost Robbers
10.Aunt Mary Scarey / The Ice Heist
11.A Shoplifting Experience / The Impossible Scream
12.Prehistoric Hi-Jinx / The Commander is Missing
13.Love at First Fright / Saving Grace in Outer Space

The Spooktacular New Adventures of Casper)

1.Spooking Bee / Fugedaboudit / The Flew
2.Paws / The Alphabet Song / Is So Too
3.Legend of Duh Bigfoot / The Ghostly Day / Invasion of the UGFO's
4.Rocket Booster / A Really Scary Casper Moment / Day of the Living Casper
5.Three Boos and a Babe / The Whipstaff Inmates / Elusive Exclusive
6.Paranormal Press / Another Spooky and Poil Moment / Deadstock
7.Poil Jammed / The Who That I Am / A Picture Says 1000 Words
8.Spooks, Lies & Videotape / Ghostfather
9.Rebel Without a Date / Don't Bank on It
10.Casper vs. the Ultimate Fan Boy / Field of Screams
11.Grim and Bear It / Fatso of the Opera
12.Dead of the Class / A Spooky and Poil Moment / Y-Files
13.Losing Face / Galloping Ghost
14.Aunt Misbehavin' / Split Personalities
15.Something to Stink About / Pulp Friction
16.Ectospasms / Stink of the Road / Doc's Depression
17.Boo to the Future / All that Falderal
18.Spooky and Poil Meet the Monsters / You Know You're Alive When... / 13 Ways To Scare a Fleshie / The Trick's a Treat
19.Frightening Storm / The Ghostly Trio / The Legend of Whitebeard
20.Three Ghosts and a Baby / I Wanna Be Rude / Leave It to Casper
21.Luck of the Spookish / Day Care Nightmare
22.Scream Card / You Know When Your Alive When / Lady Screams the Boos
23.A Christmas Peril / Ms. Banshee's Holiday Hits / Good Morning Dr. Harvey / Fright Before Christmas
24.A Midsummer's Night Scream / Auntie Maimed
25.Gargoils / Ms. Banshee's Public Domain Hits / Boosom Buddies
26.What Goes Around / Scavenger Haunt
27.Columboo / All About "C"
28.Hat Sick / Cancion De Olor / The Boo-Muda Triangle
29.Intensive Scare / F-A-T-S-O / Stench!
30.The Phantom of the Oprah / Stretch's Information Tidbit / The Crying Game
31.Free Goldie / I'd Pick Your Nose / Birthday Boos
32.Rats! / Stinkie Time Theater / Great Ghouly Governess
33.Aboove the Law / Ten Little Fatsos / Haunt-A-Thon
34.This Old Manor / Scareobicize
35.Gingersnap out of it / Send a Good Stink Up Their Noses / Ghostly Locks and the Three Scares
36.Booparty / Do You Like Me? / MacDeath!
37.The Scummies / Three-Ring Whipstaff / It's Best to be the Most
38.The Son Also Rises / Stretching is Good for You / Ghostfinger
39.Mom Always likes Ghouls Best / Bury Maguire / Dare to Scare
40.Four Funerals and a Wedding / I Can Be Anything / Family Reunion
41.Horrid Copy / I'm Nothing Without My Hat / Caspeer Pressure
42.That Thing You Boo! / A Good Walk Poiled
43.Jasper / It's Great To Be a Ghost / The Boo-Bloods of Whipstaff
44.Ghost Jam / Do the Spooky / Dr. Harvey and Mr. Gruesome
45.Politically Co-Wrecked Casper / Three Little Letters / Pen and Tell Her
46.Jack and the Scream Stalk / Boo Bash a Bone Bag / Artistic? That's a Stretch!
47.Scaredy Boo Where Have You Got To? / Casper's New Theme Song / The Daunting Game
48.At The BOO-vies / Sing Yourself Happy / Snowball's Chance
49.NYPD BOO / Three Cool Ghouls / Working Ghouls
50.Scream Test / Ms. Banshee's Kid Songs / The Doctor Is Out
51.Miami Nice / If You're Unhappy And You Know It / That Advice Stinks
52.BOO-Kini Beach / Garlic Bread Man