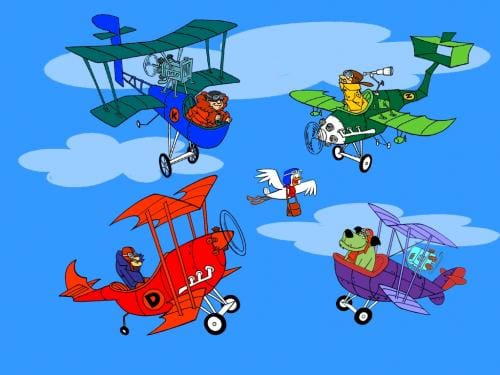 Titolo originale: Dastardly and Muttley in their Flying Machines

Casa: Hanna & Barbera

Anno: 1969

Episodi: 89

Canali: Rai 1 / Italia 1 / reti locali
Uno squadrone strampalato di piloti aerei ha l'arduo compito di catturare un piccione viaggiatore che porta nella sua borsa dei messaggi segreti per le truppe nemiche. Per riuscirci, il comandante Dick Dastardly - già apparso in Wacky Races - si affida alla sua ciurma (Wing Dings, nella versione originale) composta da: Clunk, un tipo strano dal linguaggio incomprensibile, che si occupa di inventare degli aerei costruiti appositamente per acchiappare il piccione; Zilly, un fifone che ha paura di volare ed è unico al mondo in grado di capire il linguaggio di Clunk; infine, il fedele Muttley, un cane furbastro che aiuta Dastardly solo per avere in regalo una medaglia da appendersi al petto. Muttley è in grado di far ruotare la propria coda in modo da volare usandola come elica: in questo modo, salva spesso il suo padrone, ma, se quest'ultimo non gli dà la medaglia, si vendica combinandogli qualche scherzo, oppure volandosene via dopo averlo lasciato appeso da qualche parte, o, peggio, lasciandolo cadere giù!
Il telefono di Dick Dastardly squilla nei posti più impensati e la sua classica risposta è: "Ah, è lei, signor generale. No, non siamo ancora riusciti a prendere il piccione".
Ogni episodio si conclude con dei simpatici siparietti dove Muttley fa l'eroe (The Magnificent Muttley) e con le gags dello squadrone (Dick Dastardly Blackouts And Wing Dings).
Il nome del piccione, Yankee Doodle, deriva dal titolo di una famosa canzone statunitense. Durante le prime trasmissioni sulla Rai, lo stesso veniva chiamato Simone.
Questa serie trae ispirazione da un film comico inglese degli anni '60.


Titoli episodi (ogni puntata comprende 5 episodi dei 3 segmenti dello show, fatta eccezione per 4 puntate - la 4a, la 6a, la 7a e l'8a - che ne racchiudono 6)
1.Fur Out Furlough / Barn Dance / Hot Soup / Muttley on the Bounty / Sappy Birthday
2.Follow That Feather / Barber / Empty Hangar / What's New, Old Bean? / Operation Anvil
3.Sky Hi-IQ / Prop Wash / Carpet / The Marvelous Muttdini / A Plain Shortage of Planes
4.Barnstormers / Arnold / Pineapple Sundae / The New Mascot / The Bad Actor / Shape Up or Ship Out
5.Stop That Pigeon / Grease Job / Robot / The Big Topper / Zilly's a Dilly
6.The Cuckoo Patrol / Automatic Door / Airmail / Runway Stripe / The Masked Muttley / Pest Pilots
7.The Swiss Yelps / Eagle-Beagle / Deep Reading / Shell Game / Slightly Loaded / Movie Stuntman
8.Fly By Knights / There's No Fool Like A Re-Fuel / Springtime / Dog's Life / Strange Equipment / Coonskin Caper
9.Movies Are Badder Than Ever / Home Sweet Homing Pigeon / The Elevator / Obedience School / Aquanuts
10.Lens A Hand / Vacation Trip Trap / Parachute / Real Snapper / Leonardo De Muttley
11.Stop Which Pigeon? / Ceiling Zero Zero / Fast Freight / Home Run / Start Your Engines
12.Who's Who? / Operation Birdbrain / Bowling Pin / Shrink Job / Ship Ahooney
13.Medal Muddle / Go South Young Pigeon! / The Window Washer / Beach Blast / Admiral Bird Dog
14.Too Many Kooks / Ice See You / Echo / Rainmaker / Professor Muttley
15.Balmy Swami / Camouflage Hop-Aroo / Mop Up / Left Hanging / Wild Mutt Muttley
16.Have Plane Will Travel / Windy Windmill / Tough Break / The Ice Cream Tree / Astromutt
17.Plane Talk / Happy Bird Day / Boxing / Runaway Rug / Super Muttley
- EPISODI SUDDIVISI PER SEGMENTI)
- Dastardly & Muttley)

1.Fur Out Furlough
2.Sappy Birthday
3.Follow That Feather
4.Operation Anvil
5.Sky Hi-IQ
6.A Plain Shortage Of Planes
7.Barnstormers
8.Shape Up Or Ship Out
9.Stop That Pigeon
10.Zilly's A Dilly
11.The Cuckoo Patrol
12.Pest Pilots
13.The Swiss Yelps
14.Eagle-Beagle
15.Fly By Knights
16.There's No Fool Like A Re-Fuel
17.Movies Are Badder Than Ever
18.Home Sweet Homing Pigeon
19.Lens A Hand
20.Vacation Trip Trap
21.Stop Which Pigeon?
22.Ceiling Zero Zero
23.Who's Who?
24.Operation Birdbrain
25.Medal Muddle
26.Go South Young Pigeon!
27.Too Many Kooks
28.Ice See You
29.Balmy Swami
30.Camouflage Hop-Aroo
31.Have Plane Will Travel
32.Windy Windmill
33.Plane Talk
34.Happy Bird Day
- The Magnificent Muttley) [CONOSCIUTO ANCHE COME "MAGNIFICENT MUTTLEY"]
1.Muttley On The Bounty
2.What's New Old Bean?
3.The Marvelous Muttdini
4.The Bad Actor
5.The Big Topper
6.The Masked Muttley
7.Movie Stuntman
8.Coonskin Caper
9.The Aquanuts
10.Leonardo De Muttley
11.Start Your Engines
12.Ship Ahooey
13.Admiral Bird Dog
14.Professor Muttley
15.Wild Mutt Muttley
16.The Astromutt
17.Super Muttley
- Dick Dastardly Blackouts And Wing Dings) [CONOSCIUTO ANCHE COME "WING DINGS"]
1.Barn Dance
2.Hot Soup
3.Barber
4.Empty Hanger
5.Prop Wash
6.Carpet
7.Arnold
8.Pineapple Sundae
9.The New Mascot
10.Grease Job
11.Robot
12.Automatic Door
13.Airmail
14.Runaway Stripe
15.Deep Reading
16.Shell Game
17.Slightly Loaded
18.Spring Time
19.Dog's Life
20.Strange Equipment
21.The Elevator
22.Obedience School
23.Parachute
24.Real Snapper
25.Fast Frieght
26.Home Run
27.Bowling Pin
28.Shrink Job
29.The Window Washer
30.Beach Blast
31.Echo
32.Rainmaker
33.Mop Up
34.Left Hanging
35.Tough Break
36.The Ice Cream Tree
37.Boxing
38.Runaway Rug