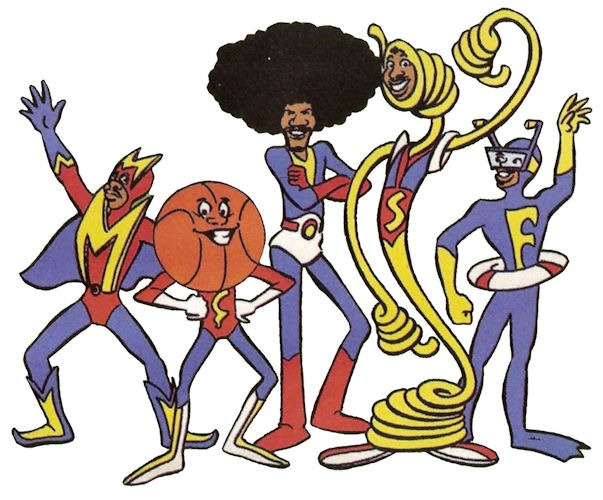 Titolo originale: The Super Globetrotters

Casa: Hanna & Barbera

Anno: 1979

Episodi: 13

Canali: Rai 1 / reti locali
Seconda serie animata di Hanna & Barbera ispirata alle vicende della squadra di basket dei Globetrotters (letteralmente: i giramondo), qui in grado di trasformarsi acquisendo poteri da supereroi che utilizzano per fronteggiare le squadre avversarie.
I protagonisti sono:
- Curly Neal (l'Uomo Sfera), in grado di trasformarsi in un pallone da basket;
- Geese Ausbie (Multi Man), dotato del potere di moltiplicarsi;

- Twiggy Sander (Spaghetti Man), il cui corpo può diventare filiforme ed allungabile;

- Nate Branch (Fluid Man), capace di assumere forma liquida;

- Lou Dunbar (Gismo Man), che può estrarre qualunque oggetto dalla sua folta chioma.


Ne è stata prodotta un'altra qualche anno prima: The Harlem Globetrotters.
Titoli episodi

1.The Super Globetrotters versus Whaleman Episode
2.The Super Globetrotters versus Museum Man Episode
3.The Super Globetrotters versus Tattoo Man Episode
4.The Super Globetrotters versus The Phantom Cowboy Episode
5.The Super Globetrotters versus Banana Bob Episode
6.The Super Globetrotters versus Transylvania Terrors Episode
7.The Super Globetrotters versus The Facelift Episode
8.The Super Globetrotters versus Robo and the Globots Episode
9.The Super Globetrotters versus the Time Lord Episode
10.The Super Globetrotters versus Movie Man Episode
11.The Super Globetrotters versus Bullmoose Episode
12.The Super Globetrotters versus Merlo the Magician Episode
13.The Super Globetrotters versus Attila the Hun