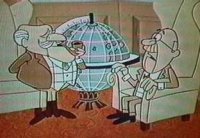 Titolo originale: The World of Commander McBragg

Casa: Total Television / Gamma Productions

Anno: 1964

Episodi: 48

Canali: Junior TV / Odeon TV / Rete A / reti locali
Il comandante McBragg è un ex ufficiale della marina inglese in pensione, che obbliga i suoi interlocutori - casualmente incontrati nel club dei gentiluomini, di cui è un assiduo frequentatore - ad ascoltare uno dei suoi aneddoti - totalmente assurdi - riguardanti la sua passata vita militare.
Questo cartone costituisce una parodia delle storie inventate o piene di particolari assurdi con cui i lord inglesi si vantavano nei confronti degli americani a proposito della colonizzazione dell'Africa.
Questo cartone animato veniva trasmesso all'interno dello show di Rocky e Bullwinkle.
Titoli episodi
1.Over The Falls
2.Fish Story
3.The Himalayas
4.The "North Pole"
5.Khyber Pass
6.Ace Of Aces
7.Niagra Falls
8.Dodge City Dodge
9.Football By Hex
10.Rabelasia
11.Okefenokee Swamp
12.The Flying Machine
13.The Giant Elephant
14.The Great Bird
15.Chicago Mobster
16.The Monster Bear
17.The Kangaroo
18.The Giant Mosquito
19.The Black Knight
20.The Flying Pond
21.The Old Ninety-Two
22.Secret Agent In New York
23.Oyster Island
24.The Steam Car
25.Swimming The Atlantic
26.Fort Apache
27.The Flying Trapeze
28.Around The World
29.Indianapolis Speedway
30.The Rhino Charge
31.Mystifying McBragg
32.Mamouth Cavern
33.The Astronaut
34.Dam Break
35.The Eclipse
36.Ship Of The Desert
37.Egypt
38.The Singing Cowboy
39.The Lumberjack
40.The Bronco Buster
41.Echo Canyon
42.Tightrope
43.Lake Tortuga
44.Coney Island
45.Rainbow Island
46.The Insect Collector
47.Lost Valley
48.The Orient Express