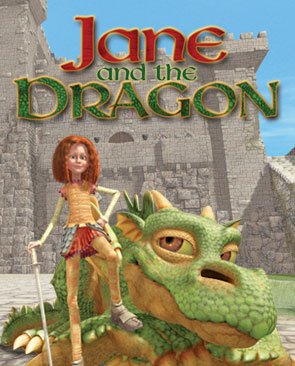 Titolo originale: Jane and the Dragon

Casa: Nelvana / Weta Workshop

Anno: 2005

Episodi: 26

Canali: Rai 3
Serie animata in CGI basata sui libri di Martin Baynton.

Inghilterra, IX secolo.
Jane è una giovane ragazza che si allena per essere un cavaliere del regno di Kippernium; un giorno, il principe ereditario viene rapito da Drago, un drago di trecento anni che parla, vola e sputa fuoco. Dopo essere riuscita a liberarlo, ella viene nominata scudiero dal re e fa amicizia con lo stesso Drago, in compagnia del quale vivrà delle incredibili avventure.
Titoli episodi
1.Tests and Jests
2.Tooth Fairy
3.Jester Justice
4.A Dragon's Tail
5.Shall We Dance
6.The Offer
7.Dragon Rules
8.All Fools Day
9.Dragon Diva
10.Adventures in Royal Babysitting
11.Three's a Crowd
12.A Pig of a Problem
13.A Thing of Beauty
14.Rune
15.Foul Weather Friends
16.DragonPhobia
17.Pride and Pollen
18.Knight Light
19.Fathers
20.Strawberry Fool
21.Go West Young Gardener
22.Mismatched
23.Dragon Egg
24.King's Knight
25.The Last of the Dragonslayers
26.For Crying Out Loud